Who is really looking after the elderly in care homes - Crisis in Care Recruitment?
3 July 2020
Working in the care sector has long been the preserve of those who really want to make a difference to people's lives. Those that have chosen to invest their time into a career in care have experienced the benefits that it can bring, but there are still huge gaps in the numbers of people needed.
Skills shortage
There are currently approximately 1.5 million people already working in social care in England but, according to skills for care 650,000 more could be needed by 2035 to keep up with the demand for support from an ageing population.
Skills for Care estimates that 8.0% of roles in the adult care sector are vacant, which is equal to approximately 110,000 vacancies at one time.
The rate of vacancies within the sector has risen by 2.5 percentage points between 2012/2013 and 2017/2018, suggesting the workforce has grown at a slower rate than needed and is struggling to keep up as the population ages.
Low pay is the biggest barrier to finding and keeping care staff

Four in five employers in the social care sector admit that low pay is the biggest obstacle to filling the sector's 110,000 vacancies, a survey has found.

The average rate of pay for care work is just above the legal minimum: in 2017-18, the latest year for which comprehensive figures are available, it was estimated at a median £7.89 an hour among independent (non-council) providers in England, compared with a then minimum of £7.50. The annual turnover was almost 31% and one in four workers was on a zero-hours contract.
Currently, within the care sector workforce, the average worker is 43 years old, with one quarter being over 55 who will be retiring within the next 10 years.. A government initiative hopes to improve this by targeting the younger generation, the government are encouraging workers to the industry who have their whole career in the care sector ahead of them, which starts to fill the thousands of potential vacancies arising over the next 15 years.

High turnover rates

The study found that workers in the industry under 20 had the highest turnover rates. This goes to show that focusing solely on a recruitment drive will not solve the on-going crisis, and attention needs to also be focused on addressing the ever-growing issue of staff retention.

The staff turnover rate of directly employed staff working in the adult social care sector was 30.7%, equating to approximately 390,000 people leaving jobs over the course of a year. In a time of much uncertainty, employers need to do everything possible to keep hold of their best staff.

Heavy reliance on agency workers in the sector
The survey also shows a huge rise in the proportion of employers citing the bill for calling in agency staff to cover vacancies as one of their main cost pressures, up from 13% to 63% in just 12 months.
Of those surveyed, 61% said recruitment was their biggest challenge and 80% considered low pay the chief impediment. Asked why staff left, 76% of the employers identified "better-paid careers" elsewhere as a reason.
Employers who responded admitted to carrying vacancy rates of up to 15% and almost half (46%) said their use of agency workers had increased.

Unregulated Agencies
As the increase in demand for agency workers in this sector has grown, so has the number of recruitment agencies providing these services.
As well as some large agencies, a number of smaller companies have also been formed. Often a care worker who knows a number of other care workers will set up an agency to supply them into their previous employer.
Since agencies who provide care workers no longer need to be CQC registered, there is very little regulation that prevents them from doing this and many of them have poor processes and procedures for ensuring that workers have some of the basics such as rights to work in the UK.
Datum provides independent auditing services and have uncovered a number of compliance failings with suppliers that raise concerns.

What can you do if you are concerned about the agencies that you use?
Datum RPO can help you to manage your agency providers, ensuring that the workers they provide are legally compliant, as well as deliver significant cost savings.
Want to find out more?
Read out guide 'How to audit your recruitment agencies'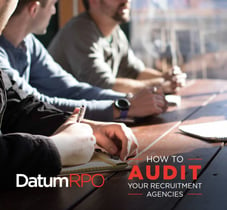 Get in touch!
If you would like to know more please contact Jarrod.mollison@datumrpo.com or 07872 870 996.