Passionate About People win 'Growth Business of the Year 2017'
6 October 2017
Following continued growth, Datum RPO's parent company, Passionate About People, were announced yesterday as winners of the 'Growth Business of the Year' category at the Gloucestershire Business Awards 2017.
The category recognises outstanding businesses that can demonstrate an increase in sales, profit, market share or business expansion over the last 3 years.
The awards were presented last night at Cheltenham Racecourse, with 600+ attendees representing a variety of Gloucestershire-based businesses.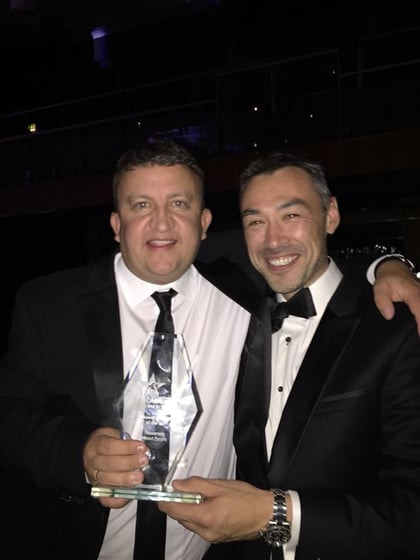 Mark Harrison, Operations Director and Raymond Pugh, Managing Director
"We are absolutely delighted to have been nominated for, and win the Growth Business of the Year category at the Gloucestershire Business Awards 2017. As an Ambassador for Gloucestershire, I am also delighted to see the success of so many businesses with their roots in Gloucestershire performing so well.
With our group headquarters in Stonehouse, Gloucestershire, Passionate About People has seen rapid growth, which has been achieved by creating strong business partnerships and delivering a first-class service to local, national and international organisations."
Alan Beresford, CEO, Passionate About People.
We'd also like to take this opportunity to congratulate all the nominees and winners for their outstanding efforts. A full list of the winners can be found below:
Business of the Year - Glevum Windows, Doors and Conservatories
Best Employee - Katie Young, Completely Motoring
Best Place to Work Award - iPipeline Limited
Business Innovation - Protrack Solutions Limited
Corporate Social Responsibility Award - Glevum Security Ltd
Digital Business of the Year - Nimble Elearning
Export Award - TBS Engineering
Family Business of the Year - Completely Motoring
Growth Business of the Year - Passionate About People
Marketing Campaign of the Year - The Scoreboard - Cheltenham Town FC
Small Business of the Year - Protrack Solutions Limited
Young Business of the Year - Ferrositi
Young Business Person of the Year - Gareth Yardley, Complete Utilities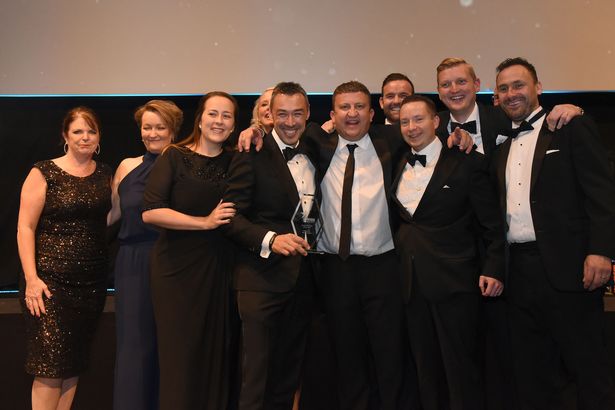 The Passionate About People representitives receiving the 'Growth Business of the Year' award
About The Gloucestershire Business Awards
The Gloucestershire Business Awards rightly puts the counties businesses in the limelight. Every year we discover and celebrate new talent, and share the success of established Gloucestershire firms and business people. We, and you, know that Gloucestershire is a very special place and an even greater place to do business – these awards are the ultimate way to shout about it.

The Gloucestershire Business Awards have established themselves as one of the most prestigious events in the local calendar since they were first held 20 years ago. It is the must attend event and the ideal opportunity for the business community in Gloucestershire to get together in a relaxed and jovial atmosphere to celebrate the area's best and most innovative companies.
Find out more about the awards and winners
About Passionate About People Group
Passionate About People Ltd (PAP) is a fast expanding, exciting and innovative Group of four sister companies: Omega Resource Group, Datum RPO, Omega Engineering Services and Omega Resource Group WLL.
Passionate About People believe that there is more to business than just profits, a sentiment which is reflected in our name. Our values and behavior form the DNA of our organisation, and has been since our inception in 1998, forming the backbone for sustainable growth.
We have built an engine that is geared up to deliver quality, satisfaction, scale and sustainability enabling us to fulfill our growth ambitions into the future.
Hard work, dedication and passion are key attributes that our staff have in delivering bespoke solutions with first class customer service and the continued CSR, financial and social investment.
About Datum RPO
Datum RPO are experts in recruitment process outsourcing and handle the entire recruitment process for some of the UK's biggest companies.
As experts in procuring and managing temporary and contract agency labour, we provide a complete RPO service that helps our customers become more efficient, whilst delivering savings of up to 12% on existing spend.
Find out more about the Datum RPO difference at www.datumrpo.com