Join us on Wedneday, 11th April at our GDPR Thought Leadership Forum Event
15 March 2018
­
Datum RPO, in partnership with BPE Solicitors, are proud to host a GDPR thought practice leadership forum - the facts explained, the myths dispelled and a practical 'how to manage' approach presented. We'd be delighted to welcome you to our head office for this event.

This is the biggest piece of legislation to affect all businesses for many years and BPE, together with Datum RPO, will provide you with the latest position and legislative updates, including those unanswered questions.
Wednesday, 11th April 2018, 08:00 - 11:00

The fines are huge; the exposure is real; the journey somewhat unmapped… but these specialist professionals will provide you with the basics to assist you with being best placed before the legislative changes go live on May 25th 2018.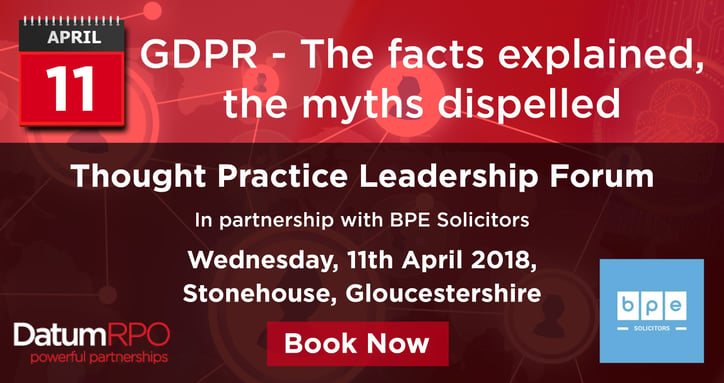 ---
Event details:
What: GDPR Thought Practice Leadership Forum
When: Wednesday, 11th April 2018

Where: Datum House, Datum House, Bonds Mill, Stonehouse, Gloucestershire, GL10 3RF
(click here for map)

Time: 08.00 networking, coffee & croissants and 08.30 start in the Board Room until 11:00
Cost: FREE

Parking: Parking is available in the Bonds Mill Estate.
---
Time for more?
An optional presentation on legal risks in the contract/ temporary labour supply chain will follow immediately post GDPR forum, 11:00-11:30, for those wanting to stay.
This is a first come first served event and spaces are limited so please book early to avoid disappointment.
---
Need to prepare?
Why not download our latest GDPR guide and get up-to-date with the latest updates and in-depth answers to the GDPR FAQ's.
---
About Datum RPO
Datum RPO are experts in recruitment process outsourcing and handle the entire recruitment process for some of the UK's biggest companies.
As experts in procuring and managing temporary and contract agency labour, we provide a complete RPO service that helps our customers become more efficient, whilst delivering savings of up to 12% on existing spend.
Find out more about the Datum RPO difference at www.datumrpo.com