Datum RPO Golf Day - in aid of Emma Getvoldsen
9 June 2017
On Thursday 25th May, Datum RPO hosted a charity golf day in aid of Emma Getvoldsen, an employee of the Passionate About People group who was raising money for a major operation that was conducted on 7th June in Sandy Springs, Georgia.
Hosted at the Forest of Arden hotel, and on the hottest recorded day of 2017, the charity golf day proved to be an excellent turnout. With high's of up to 30 degrees, Datum RPO's guests enjoyed a range of exciting activities and entertainment, one of which being the extremely talented Tricky Rob and his hugely enjoyable golf trickshot show. From blindfolded, Happy Gilmore esque tee shots, to elevated and reverse drive shots, Tricky Rob provided an hours' worth of intensity and laughter for our clients and suppliers.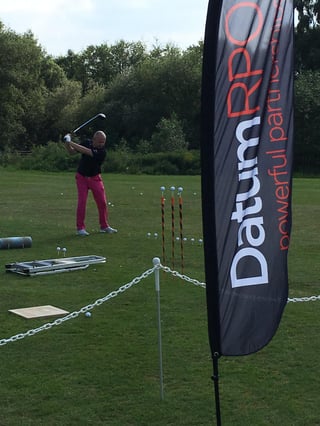 Tricky Rob attempting his multitude of golf trickshots

In addition to the full round of golf on one of the most beautiful and renowned courses in the UK, and Tricky Rob's trickshot show, guests also enjoyed a 3-course evening meal, accompanied by an assortment of exciting prizes to be won through the evening auction.
The auction items were as listed below with the corresponding sold prices:
4 Ball for Cirencester Golf Course - £100.00
Wolves Football VIP box and 3-course meal for 4 on any of the home games - £220.00
Bedlam Trousers - £35.00
4 Ball for a Q-Hotel of your choice - £140.00
Voucher for Goodwin Smith shoes - £110.00
4 Ball at Weston-Super-Mare Golf Club - £70.00
Meal for 2 at Spice Lodge in Cheltenham x3 - £160.00
Anthony Morato Gentleman's outdoor jacket - £50.00
4 Ball for a Q-Hotel of your choice - £140.00
Dolce Gusto Krups Coffee Machine - £40.00
Anthony Joshua signed photo compilation - £195.00
4 Ball at Rushmore Golf Club, Dorset - £70.00
Swiss Army Laptop / Messenger bag - £50.00
4 Ball at Cottrell Park, Cardiff - £90.00
Buff and Shine Shoe Polish Kit - £20.00
4 Ball on The Faldo Course, Lough Erne Resort, Northern Ireland - £200.00
A set of snow chains - £20.00
4 Ball at a 59 Club of your choice - £340.00
Sir Geoff Hurst signed football in presentation case - £145.00
4 Ball at the Forest of Arden (Aylesford Course) - £120.00
Calvin Klein Ladies Handbag - £70.00
A case of Laithwaites Wine (12 bottles) - £140.00
Spanish Villa, Murcia - up to 8 people - £1,400.00
Masters Flag signed by Danny Willett - £110.00
4 Ball at the Forest of Arden (Arden Championship Course) - £200.00
VIP Balloon Flight at Bristol Balloon Fiesta for 2 - £200.00
1 week in a French Chateau, near La Rochelle - up to 12 people - £1,100.00
1 week in a French Chateau, near La Rochelle - up to 12 people - £1,100.00
2018 Masters Package - £3,400.00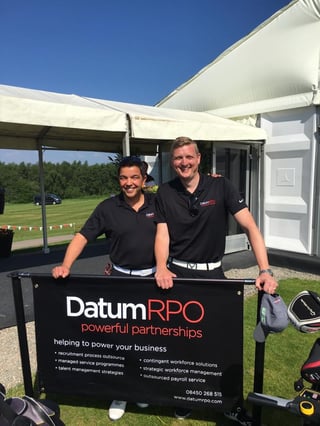 James Strickland (Group Director) & Jarrod Mollison (Business Solutions Director)
The day was a real success, raising £7,870 for Emma and her operation. Words cannot describe the gratitude we have for all those who helped us organise this joyous event. For more information on Emma and her story, please see below.
Emma Getvoldsen's story:
At the age of 18, Emma was admitted to hospital with severe abdominal pain which over the course of the next few years proved to be very difficult to diagnose and treat. On several occasions, Emma required surgery for ovarian cysts and was also told she had polycystic ovaries. Eventually, after many operations, endometriosis was discovered and several further operations were performed. Endometriosis is a well-known (yet little understood or talked about) condition which causes extreme pain, chronic fatigue, painful menstrual cycle and in most cases the inability to live a normal life. Despite not having a family of her own and only being 34, in February 2013 Emma made the very difficult decision to have a total hysterectomy (including the removal of both of her ovaries) hoping this would finally give her the quality of life she so wanted and deserved. Unfortunately at the beginning of 2016, Emma was admitted to hospital with severe pain again and various tests were carried out. In April 2016, Emma had an exploratory operation in which it was discovered that she had a pelvic mass which proved to be a very rare condition called Ovarian Remnant Syndrome (ORS).
ORS occurs if any ovarian tissue (even a tiny fleck) is left after surgery to remove both ovaries. The syndrome occurs if this ovarian tissue causes severe pelvic pain and/or a pelvic mass. Unfortunately, in Emma's case the remnant was fully functioning and had its own blood supply and was causing a huge surge of hormones to be released on a constant basis which also causes complications.
In August 2016, Emma had further major surgery to remove the remnant and three weeks later was devastated to be told that the operation had been unsuccessful and a scan showed that there was now a large cyst attached to the ovarian remnant, the endometriosis had returned and there was also extensive scar tissue which had caused all of her abdominal organs to fuse together and that she would now need to self-catheterise up to four times a day for the foreseeable future. Due to the potential complications and the high risks of life changing damage the specialist that had previously operated decided that he was no longer prepared to continue surgically treating Emma. Extensive research by Emma has proven that there are no UK specialists who have a proven track record of ORS removal. However, Emma found a specialist centre in America who's surgeons have operated on over 100 cases with 100% success rate and many, many more highly successful operations performed for the removal of endometriosis and adhesions. After an initial consultation with the surgeon and the prospect of a healthy, pain free life and the thought of being able to get back to her desk, Emma flew to Sandy Springs, Georgia on 7th June 2017 and had the necessary surgery! She is now in recovery.
About Datum RPO
Datum RPO are experts in recruitment process outsourcing and handle the entire recruitment process for some of the UK's biggest companies.
As experts in procuring and managing temporary and contract agency labour, we provide a complete RPO service that helps our customers become more efficient, whilst delivering savings of up to 12% on existing spend.
Find out more about the Datum RPO difference at www.datumrpo.com