Your Datum RPO 4 point action list for complying with the MSA
14 August 2017
Datum RPO has created an esstential four point action list to check that your organisation is complying with The Modern Slavery Act 2015. The UK government recognises that business can help combat these crimes particularly with increased transparency in supply chains.
Many organisations are already taking action to promote ethical business practices and policies that protect workers from being abused and exploited in their own organisation and global supply chains. However, there are still far too many people in the UK being treated as commodities.
Many SME's are now finding they are affected, as clients are adamant to be provided appropriate paperwork to assure that they are complying with the Act.

Action list for SME's and large businesses:
The following action list provides key points and aspects of your day-to-day business operations to consider in order to comply with the MSA:

1: Review your current contracts
Review your current contracts with your suppliers, contractors and any management companies to include a clause or provision stating that they comply with the MSA. This may well be covered with a generic clause requiring overall compliance with all relative laws to the provision and delivery of the services.
2: Evaluate supply chains
Consider evaluating your current supply chains. Ensure that your suppliers have published an anti-slavery and human trafficking statement (download full guide for details). Check any processes that they have implemented in order to comply with the Act.
3: Examine operating sectors and locations
For larger organisations, be sure to examine the various sectors and locations in which you operate. Make certain that you are aware of any global projects and that your compliance is certified throughout.
4: Demonstrate to clients
For smaller organisations, it may be that implementing a more straightforward programme is a better option, in order to demonstrate to clients that they are seeking to comply (predominantly applicable to those in the public sector).


Download your full guide to complying with the Modern Slavery Act 2015…
Datum RPO has created a guide to help you understand everything you need to know about the Modern Slavery Act 2015 (MSA). The MSA was initially established to help combat the rising levels of forced and compulsory labour in the UK.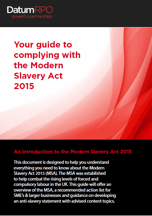 The guide includes:
An overview of the MSA and why it was introduced
Advice on how to comply through a recommended action list
Suggested topics to include in a MSA statement
How Datum RPO can assist in the process
Additional recommendations provided by Edward Naish from PricewaterhouseCoopers

About Datum RPO
Datum RPO are experts in recruitment process outsourcing and handle the entire recruitment process for some of the UK's biggest companies.
As experts in procuring and managing temporary and contract agency labour, we provide a complete RPO service that helps our customers become more efficient, whilst delivering savings of up to 12% on existing spend.
Find out more about the Datum RPO difference at www.datumrpo.com